National Geographic's Visual Atlas of the World
Thank you to TLC Book Tours and National Geographic for my free copy and for allowing me to be a part of the tour for this book. All opinions are my own.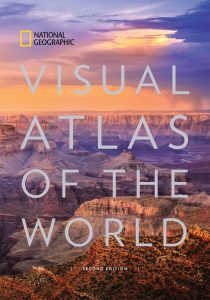 About Visual Atlas of the World
• Hardcover: 416 pages
• Publisher: National Geographic; 2nd edition
Uniting National Geographic's incomparable photography with state-of-the-art cartographic technology, this is the most compelling, authoritative, and up-to-the-moment visual atlas on the market.
Reimagined and completely updated for the first time since 2008, National Geographic's visual atlas of the world will delight and inspire. From spectacular space imagery to UNESCO World Heritage Sites, this stunning book showcases the diverse natural and cultural treasures of the world in glorious color. Featuring more than 200 fascinating maps, more than 350 new photos, and state-of-the-art cartography and satellite imagery, this is a must-have reference for families, travelers, students, librarians, and scholars. Each page was created in collaboration with the world's premier scientists, geographers, and cartographers and is populated with the most up-to-date information available, making this book the most beautiful and authoritative visual atlas available today.
Review: First, let me start by stating the obvious: this book is HUGE. When it arrived on my doorstep, I actually said OHMYGOD out loud. The size of it does make it a little inconvenient for at-home reading, but it would absolutely make a great resource in a library or school. I may actually donate this copy to my high school because I think they'd get much more use out of it than I will. It's far too amazing to be collecting dust on my shelf.
While it mainly consists of maps, there are also gorgeous photos of relevant places sprinkled throughout the pages. The photos are my favorite part. This would be an excellent addition to your collection if you work in a school or library, but it's probably not needed in the home unless you're super enthusiastic about geography
Genre: Geography
Publisher: National Geographic
Publication Date: September 19, 2017
Page Count: 416
Overall Rating: 4.5/5